Oct. 30, 2017 – COLUMBIA, Mo. – The marketing team at Primaris Healthcare Business Solutions, a national consulting firm based in Columbia, Mo., has added a podcast to its portfolio of work connecting with healthcare providers, physician groups, hospitals, and health systems.
"Quality Talk" is now available on iTunes and SoundCloud. The podcast joi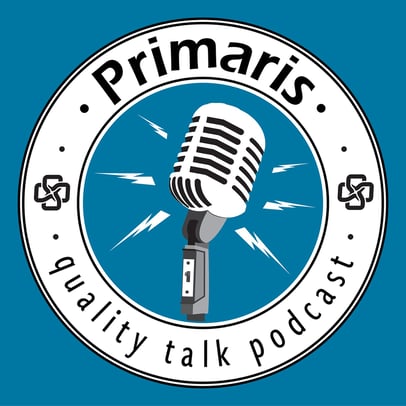 ns a digital family that already includes the award-winning, twice-weekly "Quality Today" blog and the "Quality Time" monthly newsletter. Episode 1 of "Quality Talk" is a 16 ½ minute interview between podcast host Jodie Jackson Jr. and Primaris CEO Richard A. Royer about the company's 34-year history and role as a pioneer in the nation's shift toward value-based care – a payment model that rewards or penalizes healthcare providers based on the quality and outcome of patient care. The first episode complements the company's new ebook, "The Primaris Story."
Additional episodes of "Quality Talk" that are now available focus on a variety of topics that fall under the Primaris consulting work and the not-for-profit Primaris Foundation. Those topics include a conversation about Depression Awareness Month in October, Medicare open enrollment, and the Medicare payment regulations that the health industry is facing as 2018 approaches.
The new, weekly podcast will feature discussion and explanation of healthcare news related to a host of colorful and increasingly common acronyms that embody the changing landscape of healthcare payment requirements: the Medicare Access and CHIP Reauthorization Act (MACRA), Merit-based Income Payment System (MIPS), and more. "Quality Talk" also will continue to highlight other members of the Primaris family, including the non-profit Primaris Foundation, which oversees the CLAIM Medicare counseling service and Insurance Counseling Services (ICS), which provides assistance for individuals and families enrolling in Affordable Care Act marketplace plans.
While CLAIM and ICS focus on Missouri, where Primaris got its start in 1982, the company has a nationwide reach, working with hospitals, physicians and nursing homes across the United States towards achieving the Triple Aim: better health, better care, lower cost.
"Quality Talk" also will feature Primaris affiliates – the Center for Patient Safety and the Midwest Excellence Institute.
"We already inform, educate and support our partners and the public with up-to-date healthcare news through our newsletter and blog," said Primaris Director of Marketing Rachel Verslues. "Our new podcast adds a new dimension to that plan. Like other podcasts, we expect 'Quality Talk' will become something people tune in to during their workouts or during the morning and afternoon work commutes."
Primaris Marketing Specialist Adam Voight polishes the podcast productions with his sound engineering skills.
Primaris recently received three honors in the 2017 MarCom Awards, an international competition administered and judged by the Association of Marketing and Communication Professionals. The awards represent work across print media, strategic communications, digital media and video. Primaris affiliate Center for Patient Safety was a platinum winner for its "EMS Forward" print/publication project. The marketing team won gold for the Primaris Website Redesign and for the "Quality Today" Blog. The Primaris Website received an honorable mention award.